Effective communication should be unencumbered by games or difficult temperaments, as so many personality types have a tendency to exercise. It should be a clean, crisp and direct messaging that cuts right to the point. Wasting time and effort on "fluff" may make for a great English Lit assignment submission, but it's not going to serve toward getting your intended message to the receiver in today's world of Short Attention Span sufferers!
As with any learned or improved skill, getting better at communication involves the practicing of new techniques. Download "10 Ways to Unleash the Stealth Communicator in You" and unleash the better communicator in you…
Buy the Book for $7.99
eBook:  10 Ways to Unleash the Stealth Communicator in You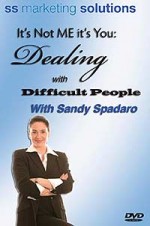 Sandy Spadaro presentations have become, by reputation, standing room only. Due to this high demand, we've designed a way to get the information that audiences around the country are calling "practical and immediately useful" and "important material with a playful delivery".  This DVD product includes the full taping of the live event's 90-minute presentation, along with bonus slide show content and audience Questions & Answers session.
At this price, you can order multiple copies of the popular "It's Not ME, It's You! Dealing with Difficult People" – the perfect content for company training, educational seminars and staff gifting needs.
Buy the DVD for $9.99
DVD:  It's Not Me, It's You: Dealing with Difficult People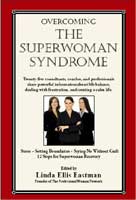 Sandy Spadaro, a communications & marketing trainer, is one of 25 international female authors featured in this compilation of expertise and creative knowledge. This much anticipated special edition includes a range of personal and professional topics including "Taking Stress Inventory", "Setting Boundaries", "Saying No Without Guilt", "Ways to Create a Calm Life", "Communication Tactics" and "Overcoming Perfectionism".
Perfect material for Book Clubs, Reading Circles, Association learning groups and Annex Libraries, "Overcoming the Superwoman Syndrome" brags a 5-star rating on Amazon.com, has been featured at Barnes & Noble book signings and has recently been translated to Spanish and Polish, super-boosting it's International sales.
Inquire about Sandy Spadaro's live presentation of same name & content at sandy@sandyspadaro.com
Buy the Book for $14.99
Paperback Book:  Overcoming the Superwoman Syndrome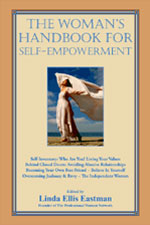 As the first featured chapter of international publishing house, Professional Woman Publishing's compilation on Self-Inventory, Sandy Spadaro's Aggressive vs. Assertive Communication content explores effective ways of defining thoughts, opinions and messaging.
Chocked full of examples, exercises and sample situations this book is a must-have addition to those seeking growth in personal and professional confidence, support, direction and independence.
Inquire about Sandy Spadaro's live presentations on Assertive Communication at sandy@sandyspadaro.com
Buy the Book for $14.99
Paperback Book:  The Woman's Handbook for Self-Empowerment